Key Info
Main campuses: Brisbane, Townsville and Cairns, Queensland
Student population: 8,200
THE rank in Australia: 21
QS rank in Australia: 23
THE global top 125 universities for life sciences, and the top 250 for education, social sciences and physical sciences
QS score of 75% or above for international research network
CRICOS reference: 00117J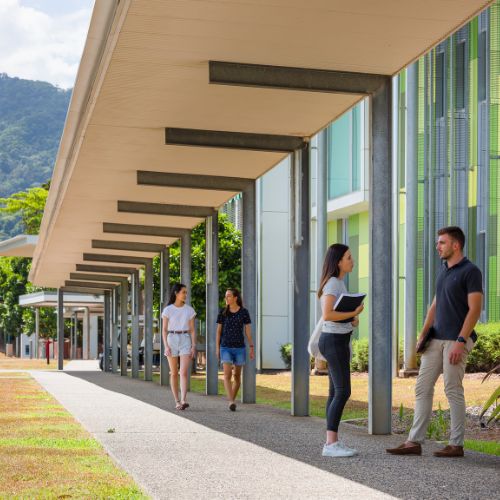 Overview
The second-oldest university in Queensland, James Cook University is consistently ranked among the world's leading higher education institutions. Its teaching and research facilities have each earned a rare five-star ranking from QS Quacquarelli Symonds, the world's leading provider of comparative analytics for higher education.
James Cook's students earned the same QS five-star ranking for their employment prospects and post-graduate earnings. In fact, all James Cook University students receive a placement in their final term of study, a unique scheme that regularly leads to offers of permanent employment. Before their graduate placements, the University's students receive comprehensive professional development, including internships, workshops, and projects with industry-leading businesses to help them prepare for successful, rewarding careers.
Its innovative dedication to rigorous education earned James Cook University 29th place in Times Higher Education's Young University Rankings 2020. As the leading university in Australia's tropics, James Cook University's campuses offer easy access to some of the world's most spectacular, complex, and fragile locations, including the Great Barrier Reef. Its locations support internationally recognised programmes in fields of study that are crucial to its remarkable place in the world. These include the world's #1 programme for marine and freshwater biology and the second-leading programme in biodiversity conservation, per the Center for World University Rankings. Other James Cook programmes of note include environmental sciences and biological sciences (especially its courses in tropical ecology), medical sciences, technology, and mathematical sciences. Students whose interest span multiple fields of study can take advantage of James Cook University's wide range of joint double degrees.
More than 15,000 students attend James Cook University, including nearly 2,000 international students. A wide range of scholarship opportunities includes several scholarships devoted exclusively to international students, and research-oriented scholarships are also available to promising postgraduate students. Students at James Cook University Brisbane receive two-year post-study work visas; James Cook students at other campuses receive three-year work visas at the end of their studies.
James Cook University places special emphasis on the relevance and global benefit of its research and teaching. In recent years, the University has expanded its presence throughout Queensland and beyond, and now spans seven campuses across Australia and Singapore. Its main campuses are in tropical Cairns and Townsville, with study centres in Mackay, Mount Isa, and Thursday Island. Townsville provides more comprehensive statistics on sustainability than any city in the world aside from Beijing, and James Cook University produces the majority of those crucial measures. The Townsville campus also serves as the headquarters of the Australian Institute of Marine Science and for the Barrier Reef's marine parks.
James Cook University Brisbane offers smaller class sizes and more personalised instruction than other Australian universities, bringing a style of education typical of elite US universities to Brisbane's city centre.
Location
Townsville
Cairns
Singapore
Brisbane
Rockhampton
Mackay
Mount Isa
Thursday Island
Top Courses
Natural and Physical Sciences
Health
Information Technology
Management and Commerce
All Courses