Key Info
Main campus: Gold Coast, Queensland
Student population: 3,000
THE rank in Australia: 30
QS rank in Australia: 24
QS score of 90% or above for international faculty ratio and international students ratio
CRICOS reference: 00017B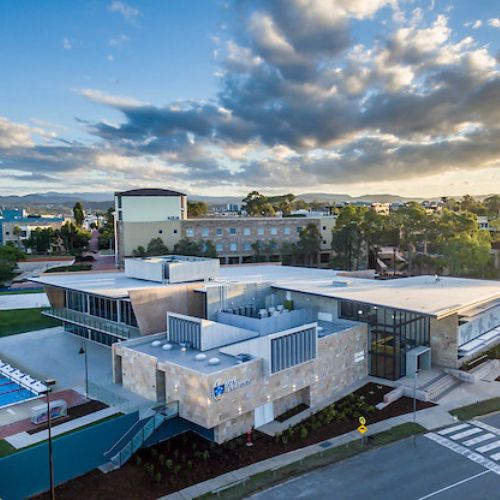 Overview
Australia's first private not-for-profit university, Bond offers a full range of undergraduate and postgraduate courses and the lowest student-to-staff ratio in Australia. Its three-semester system is modelled on similar calendars at the University of Chicago, Stanford University, and other elite institutions of higher education. This approach allows students to complete a master's degree in 12 months and supports a flexible admissions calendar, with intakes in January, May, and September. Masters students who wish to qualify for Australian work requirements may choose a two-year option that combines Bond's accelerated coursework schedule with professional graduate work experience. All Bond students in good standing qualify for a three-year post-study work visa.
Bond places special emphasis on the practical relevance of its degree programmes. Its longstanding partnerships with businesses and organisations, both in Australia and overseas, support internships, scholarships, and graduate placements. Bond is the highest-ranked Australian university in terms of employer satisfaction with its graduates, according to the Good Universities Guide. It also maintains strong relationships with partner universities around the world, supporting a strong slate of study abroad options.
Bond's enrolment of roughly 6,000 undergraduates and postgraduates supports a low student-to-instructor ratio and a more relaxed, intimate environment than other leading universities. Its more personalised experience reflects Bond's conscious decision to reflect the atmosphere of leading US universities, including Harvard, Yale, and the rest of the Ivy League, and allows for ample one-on-one time with professors and a 10-to-1 cap on lectures to tutorials. The Good University Guide has named Bond University the top institution for overall student experience for seven years running.
Because Bond reinvests its proceeds, it can afford to extend solid support to its students. Scholarships expressly devoted to international students run from 25% to 50% of tuition, and require separate applications. International students and Australian nationals pay the same tuition rates at Bond.
The University's main campus spans 50 acres in the lush suburb of Robina, and lies just ten minutes from the beach. Its sandstone buildings reflect the strength of Bond's architectural programme, and surround a central man-made lake. The broader campus extends to more than 120 acres, comprising student cafes, restaurants, athletic facilities, and a student bar. More than 70 special-interest clubs support Bond's famously vibrant and tight-knit student culture. The Australian Olympic swim team trains at Bond, and three current Bond students are Olympic athletes.
Bond University is located in one of Australia's fastest-growing metro areas, the Gold Coast of southeast Queensland. The Gold Coast itself is an important commercial centre with a population of 700,000 whose industrial base runs to information technology, communications, marine industries, and tourism. Queensland's capital, Brisbane, is just an hour from campus, and regular flights from the Gold Coast Airport connect students with Sydney and beyond.
Location
Robina, Gold Coast, Queensland (3 campuses)