As you probably know, the election resulted in a hung parliament. No one party achieved an absolute majority of seats, meaning the Conservatives were scrambling to form a coalition. It was announced on June 26th that Theresa May has completed a £1bn deal with the Democratic Unionist party (DUP) to support her minority government. The fact that a mere 27% of the 18-24 year old turnout voted Tory possibly indicates that this was not their collective desired outcome. Nevertheless, the gains made by Jeremy Corbyn in what was previously expected to be a landslide victory for the Prime Minister demonstrates the power of the youth vote.
Increased political participation
According to
Ipsos
, age in this year's election was even more of a dividing factor than it was in 2015. While older people are still much more likely to vote, turnout did rise among young people. According to
Sky News
, 66.4% of 18-24 year olds voted, compared to 43% in the 2015 general election. These figures match the youth turnout for the EU referendum in 2016, in which 64% of 18-24 year olds showed up at the polls. Interestingly, turnout this year among those aged over 65 fell slightly by 3% since 2015. The graph below represents the staggering differences discernible in voting patterns in terms of age. It clearly depicts the vote swinging from younger Labour supporters to older Conservative voters.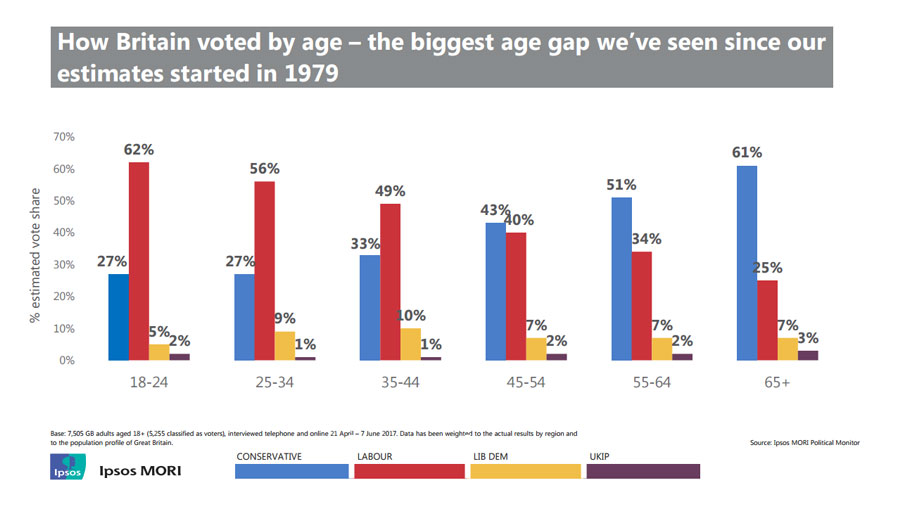 In our recent analysis of
how the youth vote has changed since 2010
, it was predicted that the Liberal Democrats may have been able to gain support among younger voters due to their plan for a final referendum on Brexit. Such a prediction was apt considering the majority of young people voted to Remain in 2016. However, support for the Lib Dems among 18-24 year olds in this year's election remained stagnant at 5% of the estimated voter share. This is possibly a result of tactical voting among 18-24 year olds attempting to keep the Conservatives out of power. The UK's
FPTP voting system
generally ensures a two-party system. Thus, a vote for the Lib Dems may have amounted to a wasted vote in many constituencies. This year, some of the Lib Dem's younger supporters perhaps switched their allegiance to Labour in order to demonstrate their opposition to the Conservatives. Another possible reason for this transfer of votes is the matter of tuition fees, considering the fact that Jeremy Corbyn pledged to abolish them in Labour's manifesto.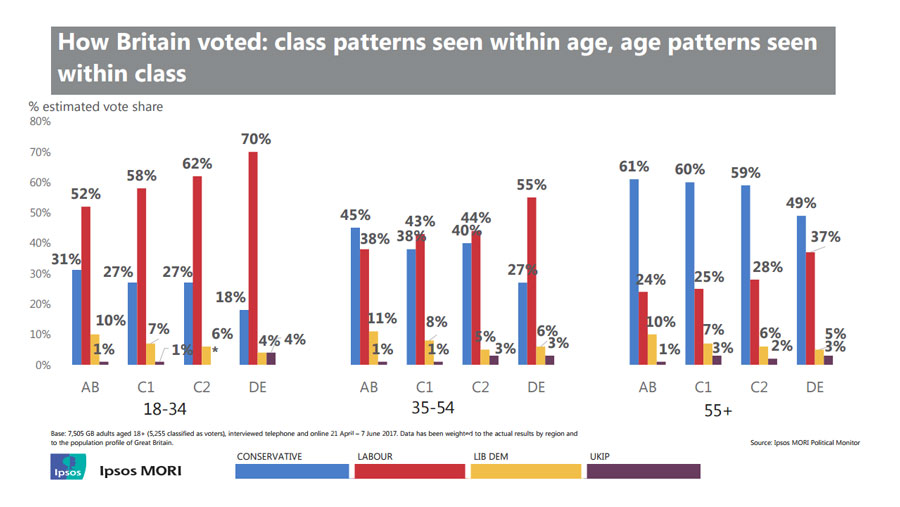 Evident in the data collected by Ipsos is the prevalence of class divisions in voting patterns. The graph above depicts the relationship between class and age. Younger voters from less privileged backgrounds were most likely to vote Labour. This conceivably negates the perception of the progressive middle class voting in full force for Labour. Labour's stronghold within the working class plainly remains intact.
Influence of popular culture
Politics has arguably been recently re-framed as something that is both fashionable and interesting. After the snap election was called, the grassroots campaign group
Grime4Corbyn
emerged, setting up a website to encourage electoral registration amongst young people. Musicians JME, Stormzy and AJ Tracey are just some of the British grime artists who publicly endorsed Corbyn in the run up to the election. Backing like this from such influential figures has undeniably roused political interest among the UK's younger generation. Although occurring after the election, Corbyn's appearance at Glastonbury is yet another example of the connection he has forged with young Britons. Being photographed pulling pints at a festival undeniably makes him more relatable to a younger demographic.
Social media as political propaganda?
In recent years, sites such as Facebook and Twitter have emerged as major competitors in the market for news consumption, rivalling more established sources like newspapers and radio shows. The 'bubble' provided by social media unfortunately serves to mask conflicting opinions. There is a concern that young people are beginning to use social media as their sole basis for forming political opinions. One key issue here is that posts on social media are not required to adhere to rigorous fact or source checking. This spreading of information which may sometimes lack credibility has contributed to a new era of 'fake news'. Certainly, an effort must still be made to educate oneself on the political process, parties and policies. However, the extent to which the opinions of people on social media can act as a tool of persuasion is arguably not unlike the bias present in much of the press. The influence of social media is perhaps regarded as a more sinister method of propaganda. This is possibly because young people are perceived to be more impressionable and naïve than the target audience of the press. Regardless of this negative perception, the interactive discussion found on social media ultimately discourages political apathy. It goes without saying that young people must continue to be politically engaged. Increased engagement results in increased turnout. Social media sites should be commended for allowing people to make their voice heard and inspiring them to go out and vote.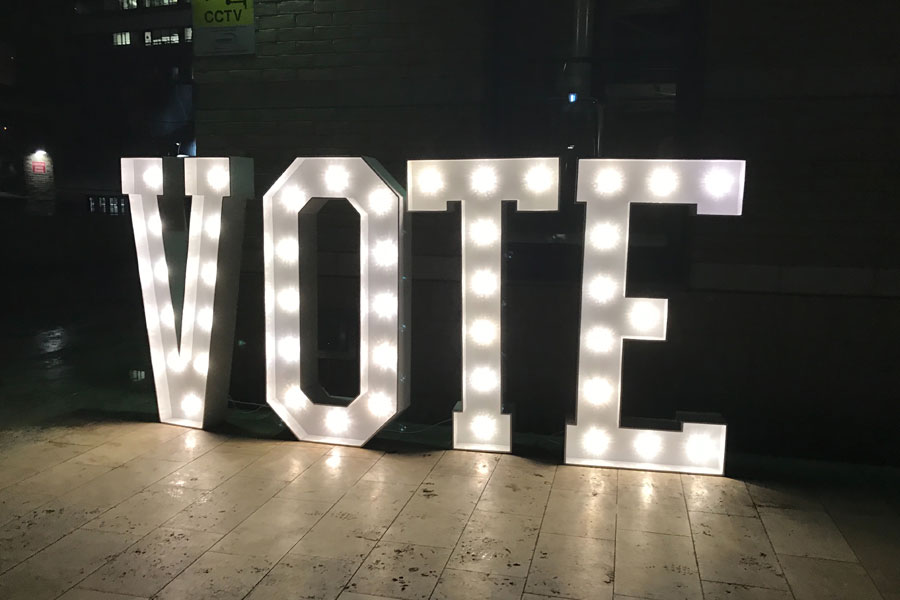 The 2017 general election reminded politicians that the UK's younger population should not be ignored. While the Conservatives made little attempt to encourage people to register to vote, the Labour party were able to mobilise the youth vote to their advantage. This undoubtedly contributed to Corbyn's impressive 10-point advance in Labour's share of the vote since 2015. The youth vote carried huge influence in seats such as Manchester Central, Canterbury and Cambridge, which were also in the
top 22 seats
for increased turnout. The 2017 election proved that the UK's younger generation have the ability to wield considerable power and ultimately make significant change.
About the Author: Jasmine Bascombe is a History and American Studies student at the University of Manchester. She tried to keep this article as unbiased as possible.