Just in case you have failed to realise, it is election season again! That time where as a nation we decide what we want our parliament to look like and who shall govern us for the next few years. More than 800,000 18-24 year olds have registered to vote since the 2017 General Election was called, making young voters the
highest of any age group
to do so. This fact, however, isn't quite as impressive, considering that older generations will likely have remained registered from the 2016 referendum, and tend to move house less frequently. But as parties attempt to secure their majority in the House of Commons we will look at the trends of our young voters over the last 7 years and how parties have attempted (or not!) to gain their coveted votes.
Youth Politics
Unsurprisingly in politics, like with everything else in life, different people want different things. Young people have specific wants and needs, for both now, and the future. Some policy areas that are generally seen as most important to young voters are Jobs, Housing and Education, such as tuition fees. Youth unemployment rate is currently at 12.4%, which is the
lowest it's been since 2006
. Although it has fallen compared to a year ago, youth unemployment is significantly higher than the national unemployment rate in Britain which for
January - March 2017 sat at 4.6%
.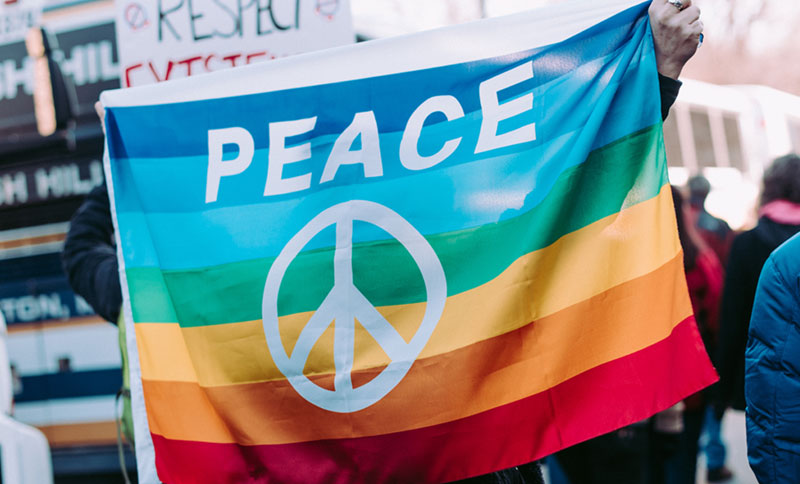 Due to the housing bubble which contributed towards the 2007-8 financial crisis, house prices are now massively inflated and we are faced with a shortage of affordable housing. This has led to Millennials finding it increasingly difficult to get onto the housing ladder, with it being expected that we will spend over
five times what our parents did on rent
by the time we are 30. Tuition fees have been a contentious subject in youth politics since the Liberal Democrats broke their promise on scrapping fees in 2010 and in Coalition, tripled them. That said University fees will always remain important to students, with Labour having pledged to reduce them in 2015 and now under Jeremy Corbyn is pledging to scrap them completely.
Our Hung Parliament
7 years ago, we started the election campaign while Prime Minister Gordon Brown was dealing with the aftermath of the global financial crisis. The General Election took place on 5th May 2010 and saw the
first hung parliament since February 1974
. The Conservative Party emerged as the largest party and would eventually enter coalition with the Liberal Democrats. Registered? Turnout for young people in this election was around 44% compared to 65% for the entire electorate. According to
Ipsos MORI
, the split of young votes cast for political parties was very even. Both Conservatives and the Liberal Democrats received 30% of youth votes, with Labour being ahead on 31%.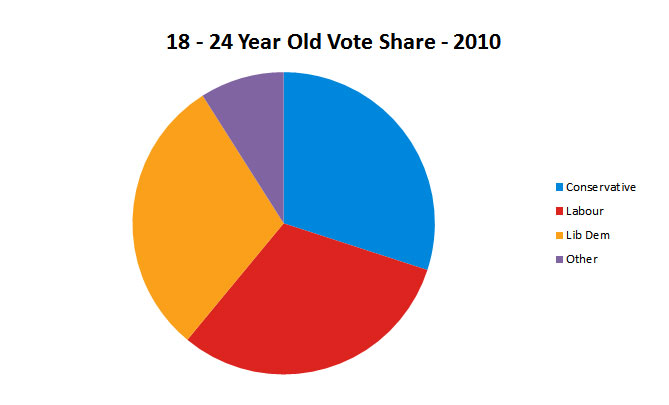 The increased support for Labour and the Liberal Democrats among 18-24 year olds compared to the national result could be attributed to their policies regarding housing, tuition fees and job creation.
Gordon Brown pledged
to offer no stamp duty for first-time buyers of houses below £250,000 for two years and job training for young people out of work for 6 months. The Liberal Democrats offered their most famous U-turn in recent memory, aiming to scrap tuition fees. Nick Clegg was then forced to drop this policy upon forming a Coalition with the Conservatives.
Youths for Ed
In 2015, we went to the polls again. Around 70% of 18-24 year olds were
registered to vote
, which was around 14% more than in 2010. The nation had seen five years of the Coalition and the UK was experiencing an increase in support for minor parties. Students had become accustomed to the Coalition's £9000 tuition fees, which
Ed Miliband's Labour party
planned to reduce to £6000. This reduction was still double the fees paid before 2010. Labour also planned to introduce various caps on prices of essential goods and services in the private sector which would've benefited young people, while pledging to build more new homes than the Coalition had. David Cameron focused on the economy and ensured the public of his ability to create
1000 jobs a day
while in office. With youth unemployment being around 14%, this would've been attractive to certain young voters.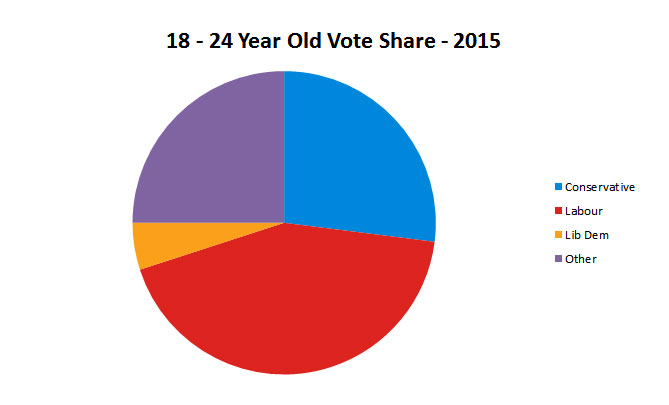 The Liberal Democrats suffered from their coalition in 2010 dropping from 30% of young voters to 5%. Statistics produced by
Ipsos
suggests the Liberal Democrats dropped behind both the Green Party and UKIP in share of young voters. Labour received 43% of the youth vote while the Conservatives received 27%. This suggests that the young voters at the time somewhat rejected the Coalition government, with 68% of young voters choosing to vote for political parties other than the Coalition partners. It is worth noting that the Green party's 2015 manifesto
mentioned young people the most
out of any national party with 35 mentions, while Labour had 30 mentions of young people and the Conservatives mentioned young people 21 times.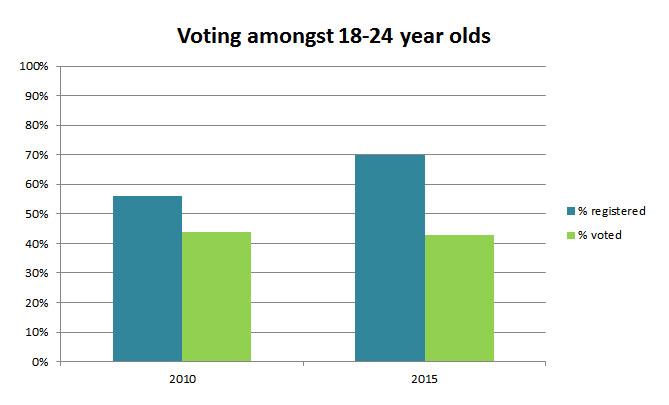 Young Europeans
In the 2015 General Election, Cameron offered the nation an in-out referendum on Britain's membership of the European Union. I'm sure you are almost definitely aware, but for those who have been irreparably turned off by politics, Britain voted to leave, and it now dominates political discourse. Young Britons had a different plan for the direction of their nation, having voted overwhelmingly for Britain to stay within the European Union. Roughly
70-75% of young people
backed the Remain campaign. The most blatant reason that young people specifically would have voted for Remain would be due to both
freedom of movement, and education
. The European Union gives huge research funding to universities which massively benefits students that study within the UK, it now seems unlikely that this will be matched by the UK government. Since 1987,
over 200,000 British students
have taken part in the European Union's Erasmus scheme and the annual enrolment continues to increase. This scheme allows young Brits to study at education institutions throughout Europe.
What does this mean for 2017?
One of the notable points to take from these figures is that young people appear to have moved away from the Liberal Democrats and have increased the vote share of the Labour party since the 2010 General Election. They are likely to continue supporting Labour in the 2017 General Election with Jeremy Corbyn's promises of scrapping tuition fees, reinstating of Housing benefits for under-21s and what the
manifesto
claims as a 'jobs-first Brexit'. Despite Tim Farron and the Liberal Democrats not polling particularly well, they may be able to pick up some young support on the back of their plan for a referendum on the final Brexit deal with the negotiations beginning just after the election and the huge youth Remain vote. The Conservatives always tend to poll better with the older voter blocks, however we will most likely see many young Brexiteers voting for Theresa May to ensure they get the Brexit they voted for.
Make your voice heard on June 8th
Most importantly, whichever way you are leaning, make sure you get out and vote. The legitimate concerns of young people are often ignored by political parties in favour of pleasing the older British voters, who understandably vote for parties that improve their standard of living over that of young peoples'. Young people have the lowest turnout in UK elections of any age group and our youth voter turnout is the
lowest out of the first 15 EU member nations
. Looking at the EU Referendum's voter turnout,
Ipsos
suggests that 48% of 18-24 year olds voted, while 81% of 65-74 year olds voted. The larger turnout for the older population means parties make a greater effort to court these votes. But this can change. Democracy matters and if you don't cast your vote the government will not listen to you.
Make sure you vote on Thursday June 8th.
About the author: Hi, I'm Jacob. I am currently studying Philosophy, Politics and Economics at Lancaster University.
---
NB: please note that much of this data is an approximation due to lack of concrete knowledge. See sources for more details.