Interview stage/offer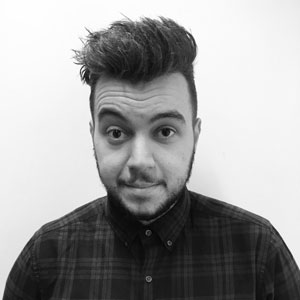 I first met GRB at the University of Brighton placement fair in 2016 and approached them to see what they had on offer. I loved the sound of the role, and the fact I would be staying in Brighton was an added bonus. I spoke with the past placement student, Ali on the phone and she invited me to interview - I was extremely nervous as this was my first face-to-face interview. The interview day arrived; I had prepared as much as I could, dressed up smartly, and made my way to GRB's head office. Upon entering the building, I immediately liked the vibe - people were casually dressed, multiple people offered me drinks, and wished me luck etc.
I was met by the Associate Director, Steve, and the current placement student, Ali. We sat down for my interview and I was pleasantly surprised. Of course, it was a formal interview and therefore quite nerve wracking, but their approach was unique - the whole interview felt like I was just having a normal conversation. It wasn't just a rigid question-answer interview and the approach really helped with nerves and I left feeling quietly confident. A few days later, I spoke with Ali again and waited for a decision.
Later that day, I was invited to the final interview stage; it's fair to say there were a range of emotions going on, excitement, nerves, and so on. The second round arrived and I met with two managing consultants at GRB, the marketing manager and marketing director. Once again, both interviews were quite relaxed; asking about past experiences, but it felt like more of a 'get to know you' interview. A few days later, I spoke with Ali again. We swapped feedback and she asked how much I wanted the job (at this point, I loved everybody I had met and really wanted to get involved). I told her I rated GRB as my first choice amongst other offers. Later on that day, the long-awaited decision finally arrived - and it was great news! I was offered the role! I was ecstatic and I didn't know what to do with myself; I was bouncing off of the walls and thanking Ali profusely. Start-to-finish I was looked after, made to feel at home, given detailed feedback about interviews, and kept in the loop the entire time.
Starting out at GRB
There were a number of thoughts flying around my head before starting: Am I going to fit in? How I would get started in the role? Who am I going to sit with at lunch? I vividly remember my first day, as well as all of the nerves before starting - though I remember (as the company has a casual dress code policy) being more nervous about what to wear than actually starting working! I played it safe and dressed up - shirt, trousers, nice shoes - and was met by our associate director in shorts and a t-shirt and thought "okay, it
is
a casual dress policy". After the first day all of my worries and queries had been answered or disappeared completely - everybody was, and still are, extremely friendly. I was expecting a workplace to be a cliquey environment but at GRB it was perhaps the opposite - everybody was hugely welcoming and I felt right at home and I felt myself enjoying being at work.
My time as a resourcer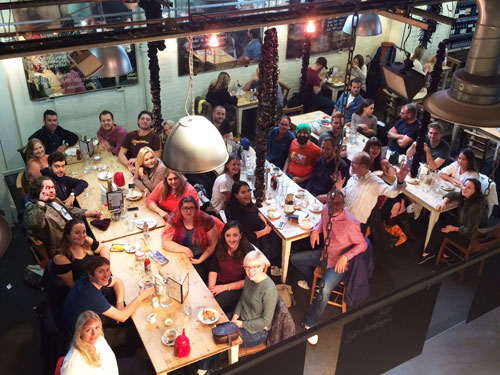 The first part of my role was as a resourcer - assisting the core recruitment team at GRB. Training started and of course, there was a lot to take in with it being a new industry, a new company, and a new role. However, the training provided was fantastic. I did not expect the coaching to be so thorough and tailored to myself as an individual - my rate of progression was dependent on how I was doing. I wasn't over pushed and in the same respect wasn't under-pushed or allowed to coast along. I felt really comfortable doing my role which I feel ultimately played part in my successful resourcing. The resourcing itself was fun; being creative and coming up with different ideas to source candidates to match the wants and needs of clients' was enjoyable. The actual talking to students - getting them to interviews, placing them into their dream roles, and knowing that I have personally played a part in starting somebody's career - was such a rewarding feeling (not to mention financially rewarding!). I was also lucky enough to win an incentive prize for hitting my targets and was treated to a £150 voucher for a fancy Brighton restaurant.
The move to Marketing
I started in marketing in September and this is where I am currently based. I started out with the freshers' & careers fairs, a task I was most looking forward to. Although the fairs were extremely exhausting, I managed and work 11 fairs and helped to organise and source students for over 50. I really enjoyed the season - an extra perk was that the travel and numerous travel delays allowed me to catch up on TV shows I fell behind on! I was able to use my newly found resourcing skills to source student helpers for each fair GRB were attending. I managed to get a clean slate, hitting 100% of sign-up targets across the board. I met some amazing people and was able to explore cities that I had not yet visited. To celebrate the record-breaking end of the season, the whole marketing team was recently treated to a celebratory night out. We ate pizza, drank cocktails and played pool - it was a great night! Post-fairs, my main work focus has been to aid with the creation of the new GRB website. I have been exposed to so many different marketing tools and functions and gained a number of skills which I had no prior knowledge of.
The social events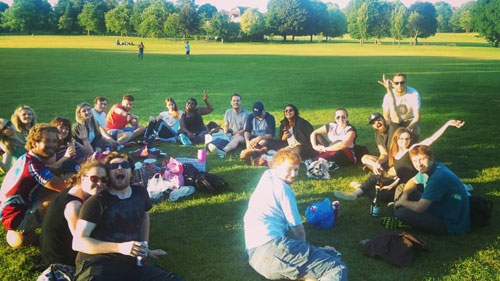 It hasn't just been work-work-work at GRB; there have been a number of socials, events and gatherings that I have been to which have made the transition from student life to work-life a whole lot easier. First of all, finishing at 4pm on Fridays and going to the pub together as a group - such a simple thing, but it's been an enjoyable way to catch up with everyone or get to know people better. One month in was my first event at GRB and it was a big one: the summer party. I was excited to suit and boot and party with my newly-found work colleagues. It was a brilliant evening; from fantastic food to a hilarious pub quiz and of course some drunken antics. I was starting to feel right at home in the company and was later informed that GRB run monthly social events, organised by employees.
The future
I'm looking forward to my remaining months at GRB. With the new website launch coming soon, I will be able to see the hard work I have put in come to life. I am currently working on my dissertation as part of my placement, analysing internships in order to understand whether they are worth it for undergraduates and graduates and what effect they have on graduate employment within each market. I'm excited to get my teeth stuck into my project and have been offered a lot of support by a number of people within the company. I am aiming to really excel within my project, to not only receive a good grade at university, but also to give back to GRB with something that could potentially aid them in the future. At the start of February I will be moving back to the commercial recruitment team as a recruitment coordinator/consultant, where I will run a number of recruitment processes from start to finish and hopefully add real monetary value to the
company
.
Lewis Whitehead is studying Business Management with Economics at the University of Brighton, and is due to graduate in 2018.