<br/>It's hard to believe that 2006 was a decade ago. Those who graduated last summer were the first batch of students to have paid £27,000 for their entire (three year) degree. They will have started secondary school in around 2005 and now they're probably working, looking for work, or studying further. So since these graduates started their second year of secondary school (2006), to their first year of graduate employment, what has changed?
There has been a 26% increase in the median graduate starting salary.
The number of unfilled vacancies has increased by 66%.
Read on to find out more...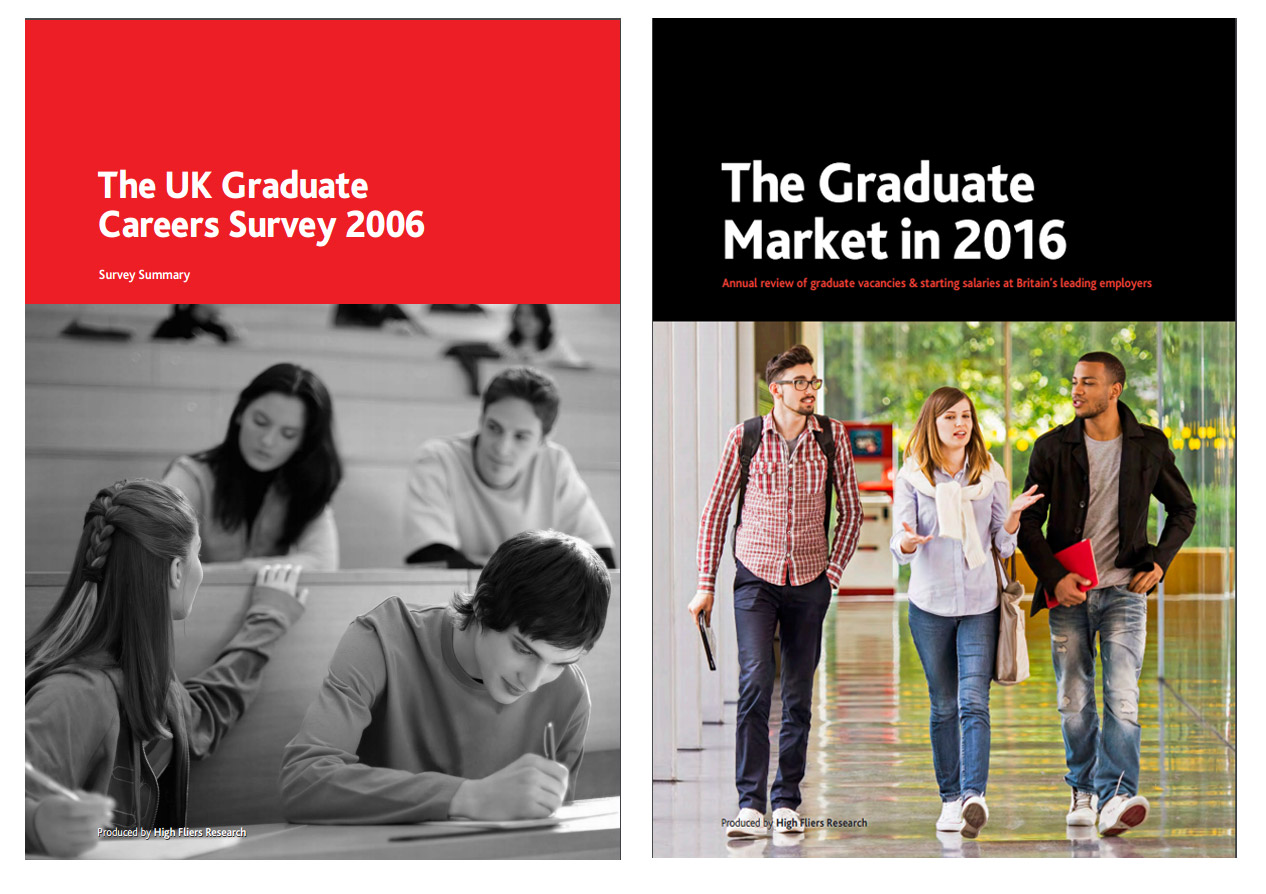 Read the reports for yourself: 2006 & 2016
The first thing to note is the clear contrast between voices in these two reports - in 2006, the graduates provided the data, including their opinions on their university experience, their aspirations for the future, and their attitude and approach towards their graduate job hunt. In the 2016 report, graduate recruiters are the authoritative voice, with most of the data based on the work that is offered, and in which sector, and whether graduates are actually applying for the roles.
The Big News
One of the most intriguing figures from this year's report is that more than 1000 graduate positions were not filled last year.<br/><br/>For comparison's sake (the 2006 report doesn't include this figure), AGR reported in 2006 that there were around 600 unfilled graduate vacancies. This is a 66% increase in the last decade.<br/><br/>In contrast, the big news in 2006 was that roughly 40% of finalists wanted to pursue a graduate role after university, with 24% hoping to take up postgraduate study. While this figure doesn't seem very salient now,
CIPD's August 2015 report
last year showed that 58.8% of UK graduates were in non-graduate roles. Clearly, more than 40% of graduates want to use their degrees in this day and age, but can't. But why then are so many graduate positions left unfilled? Are graduate recruiters being too picky, or are the candidates?<br/>
Graduate Starting Salaries
The figures speak for themselves, but the median graduate salary is still (just about) increasing, and shows a rough £600 per year increase since 2006 - and that includes the recession. As a percentage change, there has been a 26% salary increase over the last 10 years.
<br/>
2006:
<br/>"Graduate salary expectations continued to rise this year. Final year job hunters expected to earn an average of ?20,300 for their first job, 2.5% more than in 2005."
- this figure is different to the above chart, due to the difference between 'average' and median calculations.
<br/><br/>
2016:
<br/>"Graduate starting salaries at the UK's leading graduate employers are expected to remain unchanged in 2016, at a median starting salary of £30,000."<br/>
Graduate Debt
The 2006 report came out just a few months before the university fee increase in the Autumn of 2006 to ?3,000 per year - a laughable fee for us, just one decade later. This year's report has been published just under four years after the £9,000 per year fee change, yet it seems to have already been forgotten.<br/><br/>
2006:
<br/>The report suggests that "Graduates from the 'Class of 2006' expect to owe an average of £10,400 at the end of their degrees, the same as in 2005 but up from £10,100 in 2003, £5,900 in 2001 and £3,200 in 1999."<br/><br/>In addition, over one third of students believed that they would not be able to attend university under the £3,000 annual fee that would soon be brought into effect.<br/><br/>
2016:
<br/>The average graduate debt isn't mentioned in the 2016 report, bar its reference in terms of rising graduate starting salaries - but these are due to competition between graduate recruiters wanting the top candidates, and not in response to higher fees.<br/><br/>
Graduate Role Location
Even though a decade has passed, yet fairly predictably, London is still the most desirable location in graduate recruitment, followed closely by the South, the Midlands and the North. This is reflected in the amount of graduate vacancies presented in the 2016 report, compared to the map of graduates' preferred working locations, back in 2006. While these two types of figures aren't directly comparible, they give you an idea.<br/>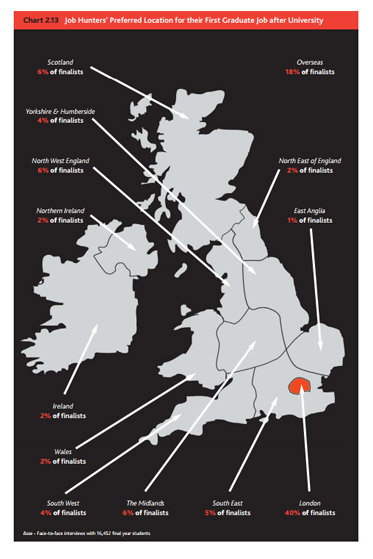 (2006 report: preferred locations for graduate roles)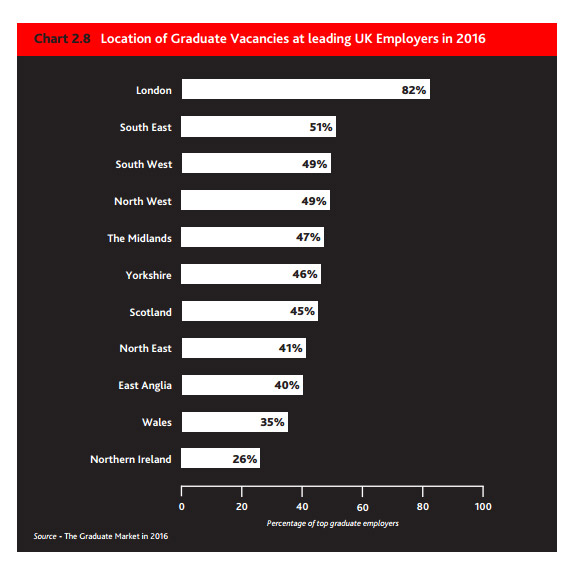 (2016 report: location of graduate vacancies)
<br/>
Graduate Job Sectors
The IT industry has exploded out of nowhere in the last decade, and public sector roles have also rocketed. Interestingly, in the earlier report, Media roles were some of the most popular types of positions:
"the most popular destinations for the 'Class of 2006' were careers in the media and teaching."
Sadly, Media roles have plummeted, along with graduate roles within Oil & Energy.<br/>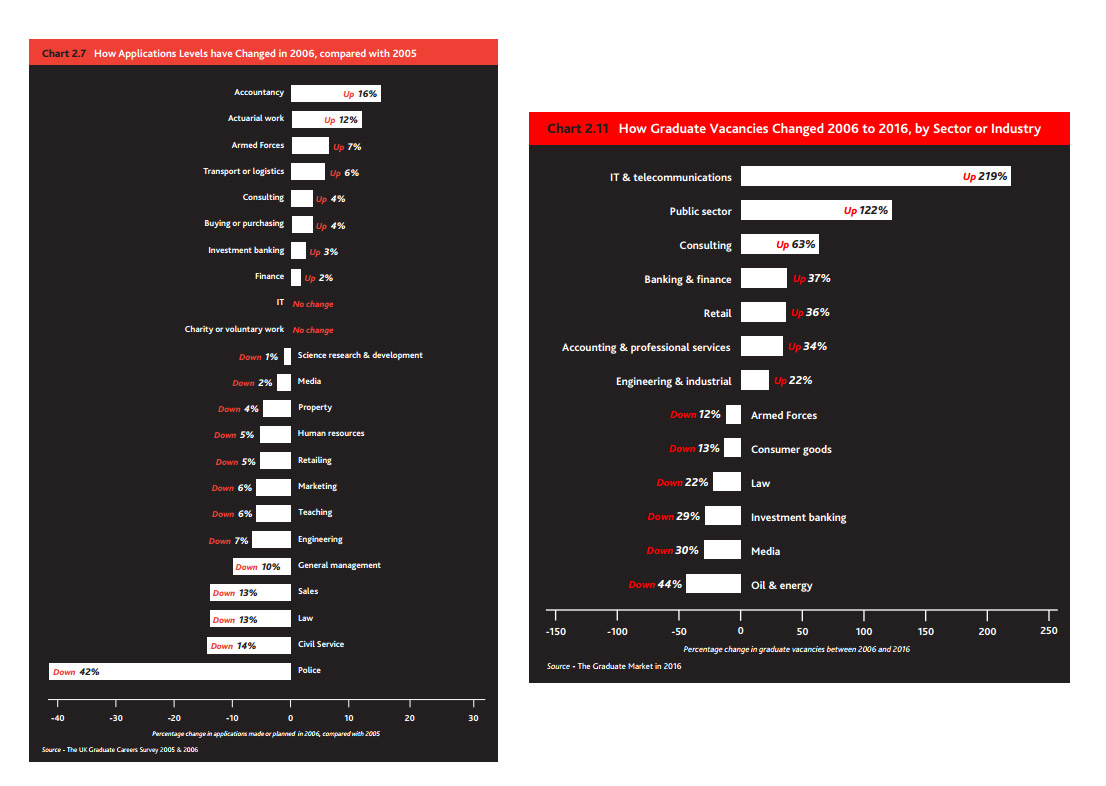 Click to enlarge<br/>
(Left: 2006 report, comparing sectors from 2005-2006; Right: 2016 report, comparing sectors from 2006-2016)
<br/>What do you think to these changes? Would you have rather graduated in 2006 or 2016?