Ambition Institute - Company Profile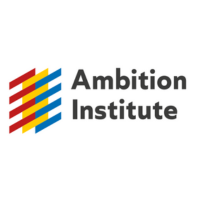 About Ambition Institute
Ambition Institute is a national education charity. We believe that improving teaching and school leadership is the best way to make sure that every pupil, regardless of their background, gets the education they deserve. Through our training and programmes, we want to ensure there are expert teachers in every classroom.
​​​​​​​About our Teacher Training programme
Whether you've graduated, are about to graduate, or looking for a new career, our Teacher Training programme sets you on the path to becoming an excellent teacher, one who will inspire the next generation to succeed.
Our training prioritises your relationship with, and impact on, the pupils you teach, allowing you to do most of your training in one school. This one-school training approach also gives you the opportunity to build relationships with teachers, staff, and the wider school community. Within one year you'll have all the skills and confidence you need to teach in a classroom on your own.
By joining our programme, you will:
Improve children's lives. A great teacher changes the future every day. Especially for children who have had a tough start in life, a teacher can be the critical factor in their success. Join us and give every child the best possible start in life.
Be guided by national experts. We are England's largest professional development provider for teachers and school leaders. Train with us and benefit from our decade's worth of experience in teacher training.
Learn flexibly. We offer a range of training routes for both full and part-time learning to make sure you are supported to be the best teacher you can be.
Join us and become an inspiring teacher. You can apply for our September 2024 cohort and find out more about our Teacher Training programme, including the qualifications you will gain, support you will receive and our eligibility criteria here.
Diversity and Inclusion
Ambition Institute is committed to championing diversity and inclusion across the education sector. We are striving to make sure we attract, retain and develop the widest talent pool, by offering fair recruitment procedures, an inclusive admission process and a supportive environment.
Ofsted Outstanding Provider
Ambition Institute have been awarded Outstanding by Ofsted for their Early Career Teachers programme. This programme is available to qualified teachers when they begin their teaching career following their teacher training.

Social Media