Version 1 Graduate Profile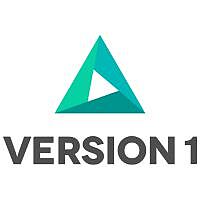 Version 1 pledge "to prove IT can make a real difference to our customer's businesses". We work hard to ensure we understand what our customers need from their technology solutions and then we deliver.
We are an award-winning company who provide world class customer service; we think big, and we hire great people. Version 1 are more than just another IT services company - we are leaders in implementing and supporting Oracle, Microsoft, and AWS technologies.
5th Best Large Workplace in the UK
1st Best Place to Work in Ireland #GPTW2023
Best Workplace for Women 2022 in Ireland
10th place in Glassdoor Top 50 UK companies
UK & Ireland's premier Oracle, Microsoft & AWS partner
Market leader in Oracle ERP and Cloud Applications
Consulting, implementation, and support services
3000 strong employees, €255m/ £220m revenue business

About Us
Version 1 proves that IT can make a real difference to our customers' businesses. We are trusted by global brands to deliver IT services and solutions which drive customer success. Our team of difference-makers work tirelessly to provide independent advice and deliver impactful changes to help our customers navigate the rapidly changing Digital-First world we live in. Our greatest strength is balance in our efforts to achieve Customer Success, Empowered People and a Strong Organisation, underpinned by a commitment to our values. We believe this is what makes Version 1 different and more importantly, our customers agree.
View Version 1 opportunities: