Local Government Association Graduate Scheme"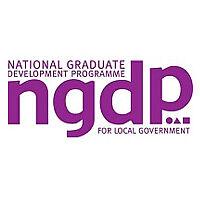 Local Government Association Graduate Scheme
The big issues facing our communities today can seem insurmountable at times for individuals who want to make a difference, but all of these issues - and more - are the mainstay of local councils' work. Councils combine the passion and expertise of hundreds and thousands of dedicated public servants, working to improve everyday life for people in their communities: now and for the future. If you want to make a measurable, tangible difference, you couldn't ask for a better place to start.
"The most meaningful thing for me about working in local government is that you're all united by how much you care about the place, and people genuinely want to make a positive difference. You're not driven by profit, you're driven by a desire to make things better."

Katy, based in Yorkshire.
The ngdp is a fast-track graduate programme for bright and passionate individuals who want to make a difference while excelling in their own careers. It offers the chance to work directly with communities, but also to influence policies and plans at a senior level. All while earning a graduate salary and completing our council-specific leadership and management qualification.
"One of the best things about working in local government is knowing that whatever you do, you'll have an impact in your local community, whether that is helping a resident solve a problem or developing a policy idea that can make a lasting difference."

Laura, based in London.
It won't be easy: the sector is facing incredible challenges in an ever-changing world. But that is why councils need your enthusiasm, fresh ideas and passion. You will have the support of colleagues who are driven by the same desire to make a difference, and will gain resilience alongside your cohort of like-minded graduates placed in councils across the country at the same time.
Want the next two years of your life to kick-start a meaningful, successful career in the public sector? Join us to make it happen.
Salary/Benefits: All graduates hired through the ngdp's national recruitment campaign will be paid a minimum salary of £25,295 per annum (as at April 2019) which is also subject to annual increases. Councils offer a generous package of annual leave, and flexible working is often characteristic of the organisation.
Eligibility: The ngdp welcomes graduates from all backgrounds and areas of study. Our only requirements are that you have a minimum 2.2 undergraduate degree by July 2020 and that you have the right to work in the UK. Unfortunately, we are not able to offer visas.
Structure of the programme: Graduates who pass our assessment process are matched with a local council in an area of their interest. You will work as the employee of that council on a minimum two year fixed-term contract. During this time, you will rotate between three to four different placements to gain a wide range of experience and skills. Placements usually cover strategic or corporate functions such as the chief executive's office, projects relating to frontline services such as social care or housing, and back-office areas such as HR, law and finance. Often, they combine these work areas around specific projects. Many councils have an open conversation with trainees about their work preferences as the two years progress, guiding what placements you select.
Learning and Development: The ngdp currently offers its trainees a fully funded ILM Level 7 qualification in Leadership and Management which has been designed specifically to equip our trainees as leaders within the public sector. Assignments are completed in the workplace, putting theory into practice and opening doors for trainees to explore their own interests.
Council Partners: Every year, we partner with over 50 different local councils across England and in Wales. All local councils are welcome to take part in the ngdp, and they have until 31 March 2020 to sign up for our next intake of the scheme.